L & A is proud to announce that we are participating in 3 very exciting national projects that will continue to move the needle on libraries and service to the ASD community.

We are serving on the board of the Illinois State Library's broad and ambitious project, Targeting Autism: A National Forum on Serving Library Patrons on the Spectrum. We participated in the first forum session in Springfield last March that attracted over 75 librarians of all different types to brain storm ideas and strategies they could implement locally. They identified stake holders, assessed needs and thought about next steps. We will all re-group there for the follow-up session in September of 2015 to put all the plans into action.

On December 12, 2014 we were a part of an exciting free webinar, Central Issues and Strategies for Public and Academic Librarians to Provide Inclusive Services, presented by Syracuse University's Project Enable. HERE is our powerpoint presentation with resouce links.

We're continuing our work on the advisory board of Florida State Univerity's Panhandle Autism Library Services (Project PALS)

Libraries and Autism gets a visit from down under!
On Tuesday, October 22, 2014 we were visited by Australian librarian, Jo Keading who is working on her PhD on library service to the disabilities community in her country. She's in the middle of a 3-month tour of the US and Canada to conduct interviews and take home (and take note of) the best that's going on. We're proud that our project was the beginning of her journey as she began to explore her topic and congratulate her for spreading the word in Australia. It was a great visit and we look forward to seeing her work as it evolves... Thanks Jo!

Libraries and Autism helps launch a new Autism Resource Center in Jackson, MS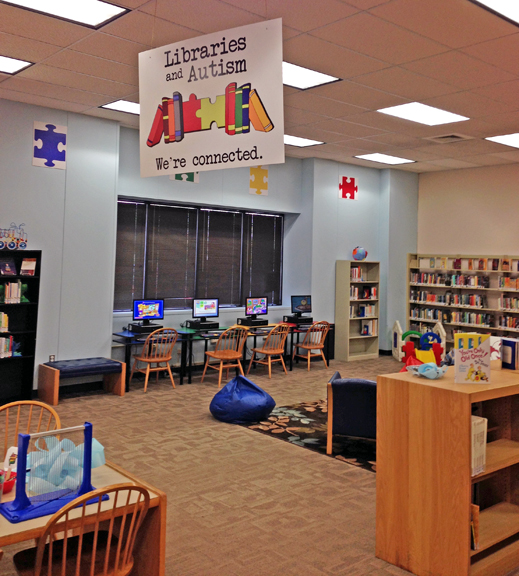 On Thursday, October 9, 2014 we travelled to the Eudora Welty main branch of the Jackson-Hinds Library System in Jackson, MS to help cut the ribbon on their impressive new Autism Resource Center. Back in 2012 we met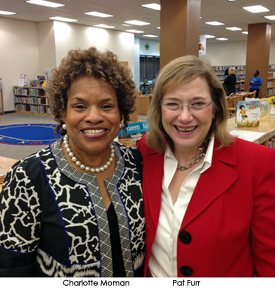 Charlotte Moman, the Assistant Director for Public Service there, at our PLA Conference presentation in Philly. She was inspired by our work and has labored tirelessly over the past two years to make this center a reality. They offer a large selection of resources, AWE computers, play space and a deep collection of manipulative toys to play and experiment with. With the support of the Director, Pat Furr and a broad coalition of local political bodies and elected officials, both city and county, and support from their Board and other local community groups, the center is 'now open for business'. Charlotte reports that its already getting lots of use and it clearly will raise the level of service the library provides to the community. We were honored that they used the Libraries and Autism logo to identify the space. Charlotte deserves a big pat on the back for sheparding this project along - we need more like her! Thanks Charlotte.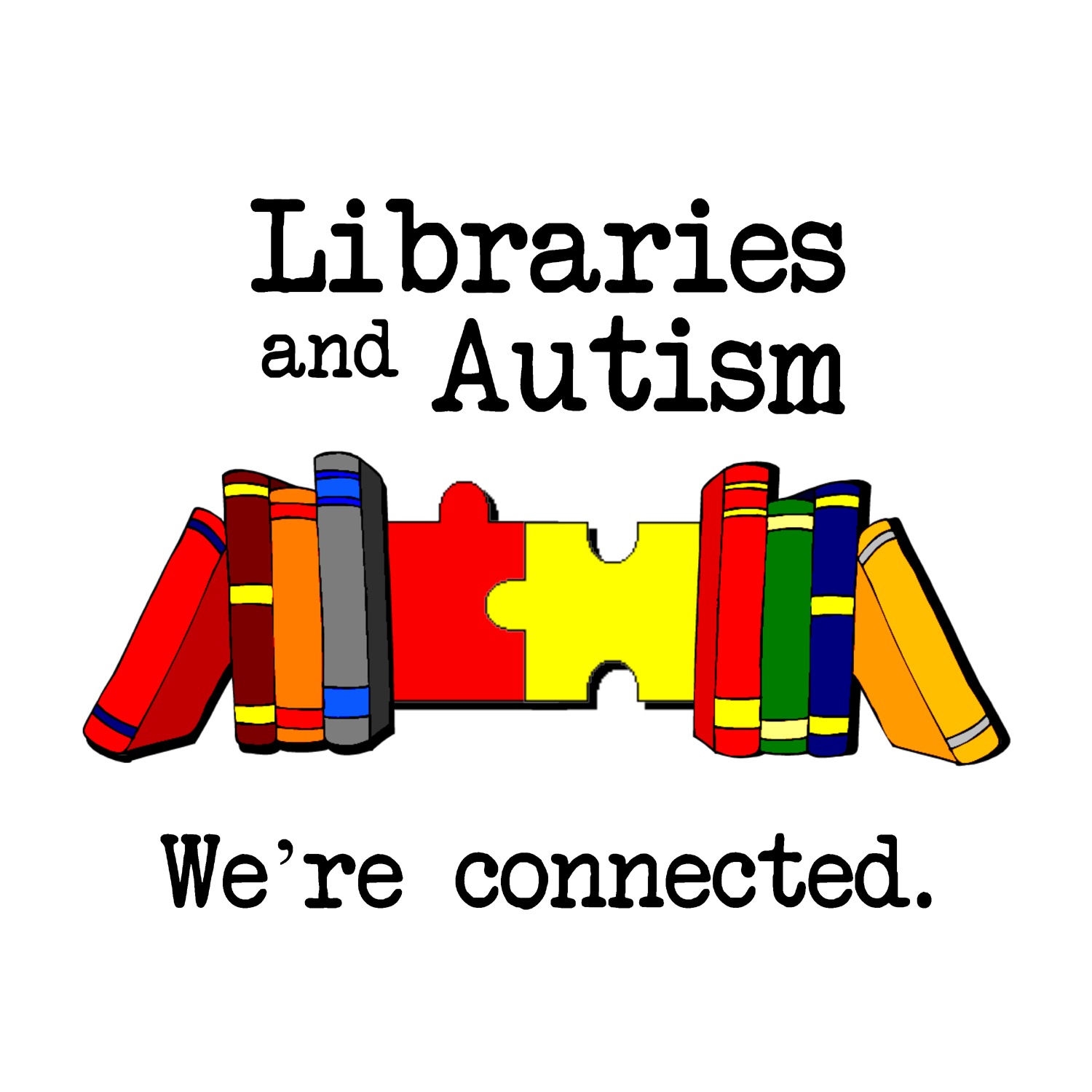 A new 2014 re-edit of our DVD is available to reflect the dramatic increase in rate of prevelance documented since the project began in 2008. Although the basic idea of of the film, the continuing need for it, and the particularly the customer service tips and so on that we provide in it are still very much on target, some of the statistics we cited in the original version had become dated.Thanks to Mary Olive Smith of Flying Pup Productions (www.maryolivesmith.com) for her amazing work on the original film and this current re-edit.

Starting in the spring of 2013, Libraries and Autism will be participating in Project PALS (Panhandle Autism Library Services). Under the leadership of Dr. Nancy Everhart, Professor and Director of PALM Center, the project involves a partnership between the Autism Institute (College of Medicine) and the PALM Center (School of Library and Information Studies) at Florida State University focused on developing and improving information services to rural library patrons on the autism spectrum. The partners will work with the FSU Center for Autism and Related Disabilities, the Panhandle Library Access Network, the Fanwood and Scotch Plains (NJ) Public Libraries' "Libraries and Autism: We're Connected" project, Syracuse University's Project ENABLE, and others on the development, implementation, and evaluation of four interactive, multimedia, online professional development modules for libraries and will determine the impact on patrons with autism in public, academic, and school libraries. Three students will be supported to work on the project and at least 170 librarians will participate in the development and testing of the modules, which will be freely available to the general public.
Stay tuned for further developments!
PLA 2012 in PHILLY!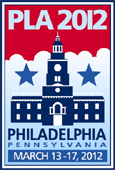 Meg and Dan were proud to be part of an important pre-conference session at the 2012 Public Library Association Conference in the City of Brotherly Love. The session, Special Needs, Talented Children: Outreach Services to Families with Special Needs, was presented by the Pennsylvania Library Association and, besides Libraries and Autism, it included Joyce Sands, Associate Director of the Lancaster (PA) Public Library speaking eloquently about the library's fantastic and effective Autism Resource Center initiative. Anita Ditz, Youth Services Librarian at the Schlow Centre Region (PA) Library spoke of their amazing success as a Family Place Library. The Family Place Libraries initiative has been instrumental in shaping the library's service model and has enabled it to truly become a vital, inclusive community destination for all families.Tricia Twarogowski, Consultant, Sterling, PA, described her groundbreaking work with Special Needs Programing that began at the Public Library of Charlotte & Mecklenburg County (NC) and which she continues to refine at her current post at the Cuyahoga County (OH) Public Library. All of the handouts from the session can be found at the PLA website. KUDOS to EVERYONE Involved!

Libraries and Autism collaborated with the Bureau of Early Intervention at the New York State Department of Health and the NY State Library on March 28, 2012 to present a webinar to librarians across the state. Download the Webinar Powerpoint presentation slides HERE. In 2011 we assisted that NY State agency in reaching out to libraries with information on autism and customer service. A package of materials, including a poster, brochures, customer service tip-sheet, an early signs card, and a bookmark promoting NY State's new online autism resource nyActs: An Initiative for Adults and Children on the Autism Spectrum was delivered to over 300 libraries around NY.
BACK from ALA 2011 in NOLA!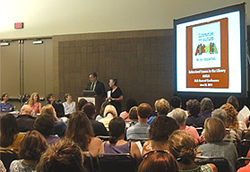 Three years ago when we started this project we searched the web hard for reference to Libraries and autism and came up dry, so it was heartening to see such attention being given to library service to indivuals on the ASD spectrum at the recent ALA conferece in New Orleans. Meg and Dan presented at two sessions and shared panels with some wonderful colleagues. Behavioral Issues in the Library was sponsored by ASCLA and included presentations by Marla Ehlers and Sophia Brewer from Grand Rapids (MI) PL, Karen Strauss from San Francisco (CA) Public, Chris Bradley from Norwalk PL (CT). Carrie Banks, Supervising Librarian of The Child's Place for Children with Special Needs for the the Brooklyn (NY) PL helped to organize the session which was moderated by Paula Holmes, a Trustee of the Upper St. Clair (PA) PL - Here's a link to nice PLA blog entry by Stephanie Hill on our overcrowded morning session.
The afternoon session, Serving Teens with Special Needs, was sponsored by YASLA and organized by the effective and energetic Michele Gorman, teen services coordinator at Charlotte Meckenburg (NC) PL. Vikki C. Terrile, coordinator of young adult services at the Queens (NY) PL also did a great job. School Library Journal was on-hand and provided this coverage.
New Orleans is such an amazing and inspirational city! Besides a great conference, some good networking and a brief but productive time on the exhibits floor, we also had a fantastic time seeing the sights, drinking in the history and walking and eating... and eating and eating. If the opportunity presents itself, don't miss a chance to see this incredible, historic treasure.
Need some recommendations? Try Mulates for some great traditional fare and Cajun music, don't miss a Po-boy at Johnny's on St. Louis St., breakfast at Stanley's, and for something more elegant, let Chef Susan Spicer (yep, it is a great name for a chef) spoil you at Bayona - great ambiance, drinks, food & service - can't wait to go back!

Meg Kolaya and Dan Weiss, recognized for their groundbreaking work with library service to the autism community, have recently formed Library Connections, a consulting firm that brings a 'real-world' approach emphasizing simple, 'customer-first' solutions for the myriad of issues facing libraries today. Whether it's customer-service or any of the full-range of traditional library consulting topics, they embrace a straight forward, common sense attitude informed by their vision of libraries and librarianship developed from their collective 50+ years of professional experience.

The project was spotlighted in the online Lyrasis Newsletter Member Spotlight "Lyrasis Member Library Has National Impact on Library Autism Services". Lyrasis (created in 2009 by the merger of PALINET and SOLINET) is a regional membership organization for libraries and information professionals that provides access to more of the shared knowledge and expertise, innovative products and services, and customized solutions they need.

Libraries and Autism: We're Connected is the winner of the
ALA's 2009 ASCLA/KLAS/NOD Award!
This national award, co-sponsored by ASCLA (Association of Specialized and Cooperative Library Agencies), the Keystone Library Automation System and the National Organization on Disability, is presented annually to a library organization chosen for its exemplary service to people with disabilities. It recognizes an innovative and well-organized project which successfully developed or expanded services for people with disabilities.
From the Award Notification Letter:
"The Committee was deeply impressed by your project and congratulates you on the production of this valuable resource. Your initiative provides a project model from conception to completion encompassing: State Library vision and funding; able project leadership; the expertise of the filmmakers; close involvement of autism professionals and families; and aggressive, skillful promotion."
Kathleen B. Hegarty Chair, ASCLA Awards Committee
We are proud to add our project to the list of past recipients.

The Libraries and Autism Project was featured in the December 2008 edition of School Library Journal and in their Oct. Online Edition

A grateful thank you to PR Newswire and MultiVU who helped us spread the word to thousands of local and national media outlets & 3,600 Web sites and video broadcasters. The multimedia press release is HERE

On April 28, 2008 we were the 'Site of the Day' on About.com's Parenting Special Needs channel thanks to Terri Mauro

The History of Autism by the Numbers Check out this brief, graphic overview of autism. Thanks to Jess at wallstats.com for the inspiration.