Through Our Eyes: Living with Asperger's (A Documentary) by Alyssa Huber Three young adults with Asperger's Syndrome (now Autism Spectrum Disorder) share their stories to show life from their perspective. They discuss their everyday experiences and difficulties they face, and their hopes for the future. The film was produced by Alyssa Huber, a filmmaker and autism self-advocate who also has Asperger's.
Life Animated: A Story of Sidekicks, Heroes, and Autism by Ron Suskind a must read for anyone that loves anyone on the spectrum, or knows anyone who loves anyone on the specturm or is dealing in any way with any disability of their own, or in their family or personal circle... or is otherwise a human being on the planet today.
Carly's Cafe - Experience Autism Through Carly's Eyes A compelling look at a everyday social outing, as viewed through the eyes of Carly Fleischmann, a 17 year old girl living with non-verbal Autism. Based on an excerpt from the book Carly's Voice: Breaking through Autism, it explores how, for someone with autism, a simple act like going for a coffee can descend into chaos.

To Siri, With Love - How One Boy With Autism Became BFF With Apple's Siri By Judith Newman from the New York Times, Oct. 17, 2014.
Doctors learn to push back, gently, against anti-vaccination movement (by Eryn Brown for the LA Times - October 31, 2014) The doctors shifted nervously in their seats as the sharp-tongued questioner scanned the room. Dr. Paul Offit, a University of Pennsylvania pediatrician and the nation's most outspoken childhood vaccine proponent, had come to the UCLA lecture hall to subject several dozen physicians to a faux parental grilling. He wanted to give them the kind of pushback doctors have come to expect in affluent parts of Los Angeles and California, where increasing numbers of parents are refusing to inoculate their kids against contagious, even life-threatening diseases for fear of complications. For many of the pediatricians in the audience, taking a hard line on the immunization schedule can mean potentially alienating well-intentioned, if misinformed, parents. If Offit, a rock star in his field, could give these doctors more factual ammunition - and a little practice on their delivery - could they help convince resistant parents that science is simply not on their side?.... read more
After Autism: The Kids Who Beat Autism (by Ruth Powers for the New York Times Magazine - August 3, 2014)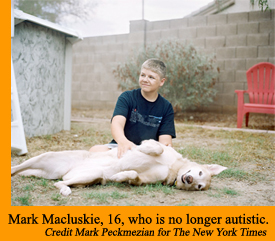 A growing body of research shows that some kids recover from autism. If only we knew why.

At first, everything about L.'s baby boy seemed normal. He met every developmental milestone and delighted in every discovery. But at around 12 months, B. seemed to regress, and by age 2, he had fully retreated into his own world. He no longer made eye contact, no longer seemed to hear, no longer seemed to understand the random words he sometimes spoke. His easygoing manner gave way to tantrums and head-banging.... read more

And of course this article's interesting perspective elicited many thoughtful comments.
Our friends at Children's Specialized Hospital have just release a fantastic series of 26 short videos called, REAL LIFE TIPS. Each one offers expert advice and real-world practical tips from experts on a variety of issues ranging from Helpful Tips after your Child Recieves a Diagnosis of ASD, Explaining the Diagnosis to Family and Friends and Understanding the Diagnosis to Tips for Building Social Skills, for Travelling and Vacations, to help with Feeding Challanges, for Play Dates, and much much more.

A rich resource to pass along to families dealing with ASD and those new to the challanges.
The recently released CDC's Latest Report from the Autism and Developmental Disabilities Monitoring Network offers some alarming new statistics. This most recent of thier biennial reports is based on information collected from the health and special education records of children who were 8 years old, and lived in areas of Alabama, Arizona, Arkansas, Colorado, Georgia, Maryland, Missouri, New Jersey, North Carolina, Utah, and Wisconsin in 2010. As in the past, the prevelence rate in NJ is higher than the national average,for a variety of reasons:
www.autismnj.org/prevalence-rates
N.J. still ranks high in autism rate, report says by Seth Augenstein, The Star-Ledger - March 29, 2014
U.S. autism rates up 30% in two years; N.J. is highest in study by Stacey Burling, Philadelphia Inquirer - March 27, 2014

Carley's Voice on Facebook Take a look at what Carly Fleishman is thinking and up to these days.
Breaking up with Dr. Normal (By Heather Kirn Lanier on her blog, Star in Her Eye - January 5, 2014) A great perspective on what normal is - "The 'problem' is not the person with disabilities. The problem is the way that normalcy is constructed to create the 'problem' of the disabled person."
Parent Tips: Going to the Library Some great tips and strategies by Shelly McMaughlin (Pathfinder for Autism's Director of Communications) for parents about preparing themselves and thier childen for a visit to the library. "Long gone are the days of the card catalog and the little cards in the backs of books to be date stamped. Today's libraries are high tech, offer audio and visual tools, kid-friendly play areas, and some even offer sensory experiences. So let's prepare to visit. (Is there really ANY PLACE our families DON'T need to prepare for?)
Baby's Gaze May Signal Autism, a Study Finds (By Pam Belluck, New York Times - November 6, 2013)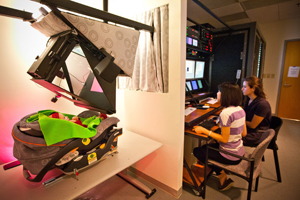 - In a study published online in the journal Nature, researchers using eye-tracking technology found that children who were found to have autism at age 3 looked less at people's eyes when they were babies than children who did not develop autism. But contrary to what the researchers expected, the difference was not apparent at birth. It emerged in the next few months and autism experts said that might suggest a window during which the progression toward autism can be halted or slowed.

The study found that infants who later developed autism began spending less time looking at people's eyes between 2 and 6 months of age and paid less attention to eyes as they grew older. By contrast, babies who did not develop autism looked increasingly at people's eyes until about 9 months old, and then kept their attention to eyes fairly constant into toddlerhood. More detail is available in this Nature News item.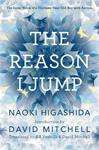 David Mitchell on autism, expectations and 'The Reason I Jump' (By Carolyn Kellogg, LA Times, Books - October 28, 2013)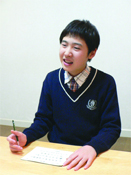 You've never read a book like The Reason I Jump. Written by Naoki Higashida, a very smart, very self-aware, and very charming thirteen-year-old Japanese boy with autism, this A NY Times Best Seller is a one-of-a-kind memoir that demonstrates how an autistic mind thinks, feels, perceives, and responds in ways few of us can imagine. Parents and family members who never thought they could get inside the head of their autistic loved one at last have a way to break through to the curious, subtle, and complex life within.
In his introduction, bestselling novelist David Mitchell (Cloud Atlas) writes that Naoki's words allowed him to feel, for the first time, as if his own autistic child was explaining what was happening in his mind. "It is no exaggeration to say that The Reason I Jump allowed me to round a corner in our relationship."This translation was a labor of love by David and his wife, KA Yoshida, so they'd be able to share that feeling with friends, the wider autism community, and beyond. Naoki's book, in its beauty, truthfulness, and simplicity, is a gift to be shared.
Alexandra Jackman of Westfield, NJ, created a compelling film, A Teen's Guide to Understanding and Communicating with People with Autism - aimed to encourage teens to understand and accept with peers who have autism spectrum disorder (ASD). The production was supported by Autism Family Times with Brianna, Inc., a local non-profit offering family-based programming for families living with autism spectrum disorder.
The film, now viewable online at http://youtu.be/p9-l19CKISg, was developed as part of an independent study program at Roosevelt Intermediate School in Westfield. Eighth grade students who are selected to take part in this Teddy Roosevelt Scholars program work with a teacher-mentor on a particular topic of student interest. Alex emphasized, 'The purpose of my specific project was to help teenagers be more aware and understanding of people with autism spectrum disorder. The video is so important to me because I feel it could help anyone, especially typically-developing teens, to feel that they can interact and get to know people with autism and not be scared of the differences. People tend to be more accepting when they are more knowledgeable.' This project represents her passion about making sure people with special needs are understood and treated fairly.

For more information on this amazing project and accomplishment check out the facebook page and of course, the film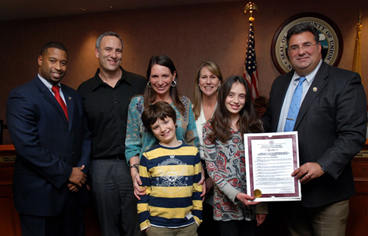 Union County Freeholders Mohamed Jalloh (L) and Alexander Mirabella (R) present a resolution to Alexandra "Alex" Jackman (2nd R) of Westfield congratulating and commending her for giving her time and talent to help others as a Peer Mentor with Autism Family Tours. They are joined by Claudette Bardwil (3rd R) from Autism Family Tours, Alex's parents, Mike and Lisa, and her brother Sam. (Photo by Jim Lowney/County of Union)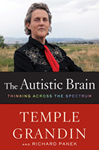 What is Autism? Jerome Groopman reviews The Autistic Brain: Thinking Across the Spectrum by Temple Grandin and Richard Panek for The New York Review of Books.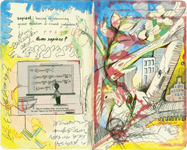 Emily L. Williams: Popularity, mixed media collage, 2008; from the book Drawing Autism, a collection of work by more than fifty artists with autism. Edited by Jill Mullin and with an introduction by Temple Grandin, it will be published in a new edition by Akashic Books in 2014.
After we posted about the documentary Neurotypical, we were contacted by Paula Durbin-Westby who is featured in it (and pictured below). She offered her perspective about the film and her appearance in it, and sent us a link to her terrific website and blog, paulacdurbinwestbyautisticblog.blogspot.com/, which is rich with information, links, and much more! She describes herself as an autistic disability rights activist, who blogs, writes articles, and speaks on disability rights, autism, Autistic parenting, and other things.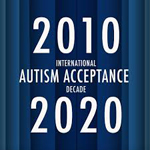 There is so much there to look at there, but one great link, that moves beyond Autism Acceptance Day (April 2) and Autism Acceptance Month, whose motto is 'Acceptance is an Action.' and promotes this beautiful message: "Autism Acceptance Month is about challenging ignorance, prejudice, fear, and hysteria about autism and autistic people. Autism Acceptance Month spreads the word that autism is both a neurological disability and a natural part of human diversity, and centers the voices of autistic people in the conversation about us", is to Paula's notion of International Autism Acceptance Decade: Moving beyond Awareness 2010 - 2020! It calls for ACCEPTANCE, not "tolerance," not "I accept you but not your autism." We require complete acceptance. Pro-neurodiversity, pro-supports and services, against "cures," Autism Acceptance Day was started to counter April "awareness" stunts that demean Autistics. It has since expanded to become a way of viewing Autism in a positive and accepting light. There you can see the details of a number of significant advances for Autistic people that have occurred in the three years since the start of the decade.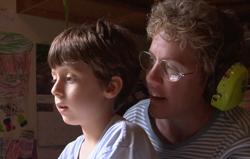 Neurotypical, a film by Adam Larsen which aired on PBS' POV on July 29, 1013, is an unprecedented exploration of autism from the point of view of autistic people themselves.
Four-year-old Violet, teenaged Nicholas and adult Paula occupy different positions on the autism spectrum, but they are all at pivotal moments in their lives. How they and the people around them work out their perceptual and behavioral differences becomes a remarkable reflection of the "neurotypical" world - the world of the non-autistic - revealing inventive adaptations on each side and an emerging critique of both what it means to be normal and what it means to be human.
|| Home || Watch this video || Use these resources || Access these links || Expand your knowledge || Strategies that work ||
|| Autism Welcome Here Grant || Past Grant Winners || Project News || Schedule a Workshop for your Library || Past Workshops || Comments and Feedback ||
|| E-mail your comments and questions ||

All content is copyright Ⓒ 2008 - 2020 by Libraries & Autism: We're Connected.
Free non-commercial use of any of these materials is permitted and encouraged to support autism awareness and inclusion.
Please acknowledge this project and link back to our site.