In 2008 Dan Weiss (Fanwood [NJ] Memorial Library) and Meg Kolaya (Scotch Plains [NJ] Public Library), together with their partners, created Libraries and Autism: We're Connected.

This award-winning project, which offers on-site, in-depth training workshops along with these web resources, produced a customer service training video and website primarily for library staff to help them serve individuals with Autism Spectrum Disorder (ASD) and their families more effectively. The video focuses on what you need to know about autism and will empower you with specific techniques to offer more inclusive service to this growing and underserved population.
UPCOMING & RECENT
WORKSHOPS and
PRESENTATIONS


October 13, 2022
WEBINAR, Mid-Atlantic Library Alliance
Kansas City, MO - 3:00 p.m. (Eastern)

September 21, 2022
WEBINAR, New Hampshire State Library
Concord, NH - 1:00 p.m. (Eastern)

May 10, 2022
WEBINAR, Chemung County Library District (CCLD)
Steele Memorial Library, Elmira, NY - 10:00 a.m.

October 9, 2021
WEBINAR, Central NY Library Resources Council (CLRC)
Syracuse, NY - 3:00 p.m.

April 3, 2020
(on pandemic hold)
East Brunswick Public Library
East Brunswick, NJ - 9:00 a.m.

July 2019-2021
ILMS Project Advisory Committee, "Library Services to Patrons with Disabilities: A Problem-Based Learning Approach", Syracuse (NY) University * This two-year, 2018 Laura Bush 21st Century Librarian Project Grant-Lifelong Learning, Continuing Education project will expand and enhance current training opportunities for library and archives professionals to help them effectively service patrons with disabilities.
---
---
October 11, 2019
Libraries on the Spectrum initiative, Imperial County (CA) Libraries
El Centro, CA - 9:30 a.m. - Workshop and on-going consulting.

October 4, 2018
Nebraska Library Assoc./Nebraska School Library Assoc. 2018
Joint Annual Conference ** Relevance Through Connection: Serving Library Patrons on the Autism Spectrum
Lincoln, NE, Pre-Conference

June 24, 2017
ALA 2017 Annual Conference Chicago
Taking on Autism: A Movement for Collaborative Solutions - 8:30 a.m.
---
For information on how to schedule
an In-Depth Training Workshop
for your own library or group,
please contact us at Dan@librariesandautism.org
Click HERE to see where
we've presented in the past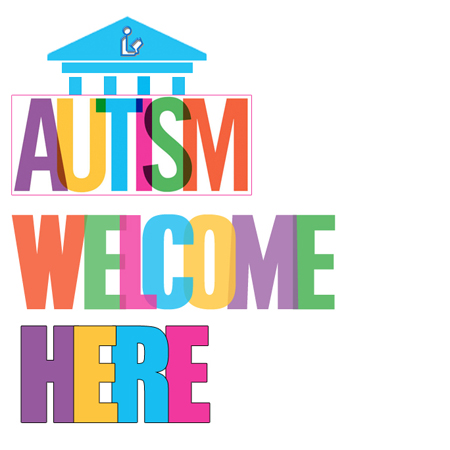 Libraries and Autism is honored to sponsor:
AUTISM WELCOME HERE:
Library Programs, Services and More Grant.
DUE TO THE PANDEMIC,
the AUTISM GRANT CYCLES HAVE BEEN TEMPORARILY SUSPENDED.


---
The Grant Committee is proud to announce that the 2019-2020 grant recipients are the Oceanside (CA) Public Library and the Evelyn Hanshaw Middle School Library in Modesto, CA. As the winners of these grants, the Oceanside Public Library will receive $4000 for their project "Autism-Friendly Lending Library and Family Events" and the Evelyn Hanshaw Middle School Library will receive $1000 for their project "Team Titans Club."

** Read the Official Press Release Here **
** Click Here to see Previous Grant Winners' Projects & Materials **
---
The response to this grant program's first five cycles (2016-2020) has been impressive. It speaks to both the on-going need, and to the willingness and effectiveness of librarians all over the country who are doing amazing things.

THANK YOU all for your applications, and your efforts to serve people with Autism Spectrum Disorder and their families in your library.
---
---
The resources here on the website, along with the on-site training workshops, which have been presented to hundreds of librarians around the country, expand on our customer service video to address the real world implementation of best practices and universal service for people with ASD and their families. They can help staff improve their ability to provide excellent, inclusive, universal customer service to everyone who uses the library.

Every library we visit reports the same story of increasing numbers of families dealing with ASD who are turning to their public library for resources, programs and a community center where they are welcome. We stress communication, customer service, the importance of your own perspective and outlook, and empowering staff to be willing to be proactive and 'do something'. We encourage using individuals on the spectrum and those with other developmental disabilities as staff and volunteers in the library, provide programming strategies that work, and emphasize connecting and collaborating with local experts.
---
Download the ADDM's (Autism & Developmental Disabilities Monitoring Network) 2018 Community Report on Autism.


To receive a free "Libraries and Autism: We're Connected" Decal or a copy of the 2014 re-edited update of the DVD for your library, please contact us at Dan@librariesandautism.org and be sure to include your mailing address.



We encourage you to explore this site, and to please make non-commercial use of any of these materials and resources
to support autism awareness and inclusion and universal service.
---
| | |
| --- | --- |
| | Please contact us anytime with questions, inquiries, comments or progamming suggestions, and take the time to let us know if the video and any of these materials have been of use to you. |